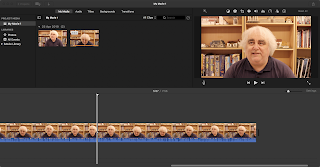 Adventures in video
Well, that was a learning experience. I finally got the camera batteries charged (and a
new charger
ordered that doesn't require a US to UK adaptor :D) after
Wednesday's setup stuff
 and Thursday and Friday's general gefuffle in getting James out of hospital (our NHS are wonderful, trust me, but woefully understaffed and underfunded – don't get me started).
Nice setup – basically I have a pair of lapel mikes that go to wireless belt packs (they also do a single one for not much more than half the price), and the receiver unit will mount on the camera accessory shoe out of the way and plug into the microphone input on the camera. As I have a newer Canon (700D) DSLR it'll shoot full HD video and the view screen will flip and twist so I can see it while I'm filming.
Things to work on:
the view screen is sufficiently small I can't see it very well without my glasses, which means I can't tell if I'm correctly focused when sat down.  The autofocus can 'hunt' a bit, which currently is solved by a process that involves a bunch of faffing with manual with something placed in the chair at 'me' height to focus on. More experimentation required – I think I can force it to use a limited set of autofocus points so it will reliably pick up me rather than the bookcase behind me.
I could plug a small monitor into the camera's mini HDMI output so I can see what it's showing better, however…
this would make my tendency not to look into the camera even worse (which is not helped by having a lazy left eye that tends to drift inward :D)
That said, I don't look as bad in front of a camera as a talking head as I thought I might…
Still. Can't show you the resulting video as it's for someone else, but here's a screen grab of iMovie, just to prove I'm not making it up.
Next step is to sort out all of the above, and also figure out which multi-camera software I can use for gameplay videos.
Yes, I'm not done tidying yet 😀
I do also now have a small camera clamp, which was bought for James while he was in hospital but wasn't terribly useful, which now allows me to do over-the-shoulder workbench shots without camera shake and my head getting in the way.
I do also have a shelf clamp for the DSLR, but it's quite hard to get it to stay in position and not sag, annoyingly. 
The below (very short!) test video was done using the iPhone audio, rather than the lapel mic – as it's pretty much just above my head, this isn't that bad (yes, the dialogue is banal, but it's just proof of concept). It does demonstrate that my cutting mat has seen better days, however…
Dieser Artikel stammt von einer der angeschlossenen Quellen. Bitte honoriere die Arbeit der Autoren indem du ihren Webseite besuchst.
Artikelquelle besuchen
Autor: Mike WhitakerTrouble At T'Mill – a wargaming blogTrouble At T'Mill – a wargaming blogTrouble At T'Mill – a wargaming blog
Powered by WPeMatico