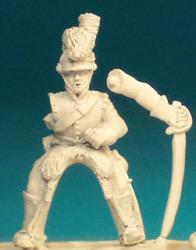 Mid War Spanish Additions (cont. 7) – Olivenza Cazadores
I used the depiction of the 1812-13 uniform in Osprey's Spanish Army of the Napoleonic Wars (3) 1812-1815 (plate B) and the figures depicted on the Perry Miniatures site to do this unit .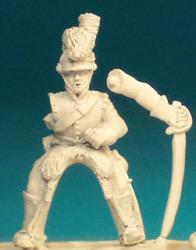 The basic Front Rank figures I have used to represent this unit started life as early Portuguese cavalry in Tarleton style helmets / caskets. 
They required quite a lot of cutting and filing and there is a significant fudge.
The cavalry flag is by Adolfo Ramos. 
Note: You can buy Olivenza Cazadores from Perry Miniatures and very nice they look. But, this is a strictly Front Rank collection. 
There are twelve figures, pictured here in their uniform (kinda) of 1812-13. 
The first conversion job was to remove the brass scale shoulder wings. This was done with a scalpel followed by some careful filing. The separate positional sword arms were then glued and pinned: The separate arm made filing easier than it might have been with the alternative 'Trooper at rest' figure. 
This shot also shows the big fudge (note the waist belt straps). I'm pretty sure that the Olivenza Cazadores were not equipped with a sabretache – mine have them. It looked like too much work, and beyond my skill level, to remove them cleanly.
Note: Some Spanish hussar units did have a sabretache as part of their parade equipment but they weren't issued for use on campaign. Was it the same for Cazadores?
This shot clearly shows the other piece of 'metal removal'. 
These Front Rank Portuguese figures come wearing a short coatee with turnbacks. 
The Olivenza Cazadores seem to have worn waste length jackets without any form of turnbacks. So, I cut and filed them away. Although this was a bit fiddly, the result turned out better, and cleaner, than I thought it would.
Next up, my unit of the Numancia Dragoons.
Dieser Artikel stammt von einer der angeschlossenen Quellen. Bitte honoriere die Arbeit der Autoren indem du ihren Webseite besuchst.
Artikelquelle besuchen
Autor: JAMES ROACH / Olicanalad's Games
Powered by WPeMatico