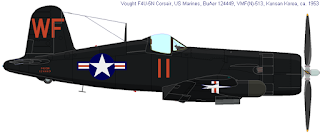 MiG Alley USMC F4U-5N Corsairs
F4U-4 fighter bomber and a pair of F4U-5N night fighters
Close Up showing the wing mounted radar pod
I have undercoated the
Tumbling Dice
Vought F4U-4 Corsair fighter bombers this morning, despite the garage being freezing cold and the paint taking extra long to dry. I've also added  wing mounted radar pods to two aircraft, using cut down model torpedoes sanded to shape, to make F4U-5N night fighters.
These will be either painted naval blue or left in a black night fighter scheme, with red insignia rather than the white markings used on the day fighters. Finally, I undercoated the Royal Navy Fairey Fireflies and Hawker Sea Furies of HMS Ocean, which I will paint up in parallel with the USMC planes. I'm hoping to get at least the USMC planes finished over the weekend.
Dieser Artikel stammt von einer der angeschlossenen Quellen. Bitte honoriere die Arbeit der Autoren indem du ihren Webseite besuchst.
Artikelquelle besuchen
Autor: J JackamanJim's Wargames WorkbenchJim's Wargames WorkbenchJim's Wargames Workbench
Powered by WPeMatico