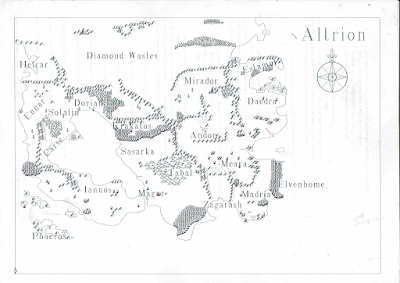 Posh Lard prep, mapping
Today I've finished re-grassing the Omaha Beach boards… didn't think you'd really want photos as if you aren't fed up of the process by now, I certainly am 😀
Also tarted up the Flames of War obstacle and barbed wire sets I picked up at Campaign. Just, you know, to make life harder for the Americans than it already is.
The car is packed. I'm sure I'm missing something 😀
You will also notice on the left a stack of pots of basing grass, aka the stuff I've shaken off the boards once done. Should last me a while.
I've also been playing with
Wonderdraft
, a rather fabulous mapping program that runs on Windows, Mac and Linux. It'll import existing maps and allow you to keep them as a tracing layer, or let you draw your own, with a wide range of symbols for everything from continent down to city-scale maps.  I was actually using it to produce a better version of the map for my old D&D campaign, but I could also see it being useful for (say) Sharp Practice campaign maps etc. 
For those of you who missed it on Twitter:
The original map – 42 (+6) sheets of hand drawn A4. Has been hiding under my wife's jewellery case on her bedroom chest of drawers (for no reason either of us can explain) for the last decade.
A scan of a printout of the first attempt to computerise it (and reduce it to a manageable size!) using Pro-Fantasy's Campaign Cartographer (which is all very lovely but Windows only). In about 1994.
Using the above as a master to trace over using Wonderdraft. Total time about 2 hours.
Dieser Artikel stammt von einer der angeschlossenen Quellen. Bitte honoriere die Arbeit der Autoren indem du ihren Webseite besuchst.
Artikelquelle besuchen
Autor: Mike WhitakerTrouble At T'Mill – a wargaming blogTrouble At T'Mill – a wargaming blogTrouble At T'Mill – a wargaming blog
Powered by WPeMatico